The Massive Sunday Roast!
Our roasts
Cracked black pepper crusted Sussex roast beef
Melon & apricot scented loin of pork
Free-range honey & piri-piri chicken
Rosemary & garlic leg of English lamb
Roasted cashew, vine tomato and spinach nut roast (v)
All served with garlic and rosemary roast potatoes, honey roasted carrot batons, honey roasted parsnips, creamy swede with nutmeg, butter and garlic sautéed French beans, extra mature cheddar leek gratin, red cabbage braised in red wine, steamed broccoli, homemade Yorkshire puddings all with a very rich vegetarian red wine and onion gravy prepared from vegetable stock.
Dessert
Deliciously rich chocolate brownies served with Cornish ice-cream
Treacle pudding with vanilla custard
Prices
Main course: £8.95
Children's course: £6.50
Desserts: £2.00
Special offers
Just £1.50 for a glass of house red or white wine with your meal
If you are one of the 400+ members of the Farm Tavern Facebook group, get a half price Asahi bottle with your meal.
Requests
As we prepare all the food from scratch, we are able to cater for people with food allergies or intolerances without any prior notice. We are happy to note down your vegetable and gravy requests at the time of ordering.
Serving times
We serve from just after midday until 10pm every Sunday and until 6pm on Bank Holiday Mondays! We are busiest between 1.30pm and 2.30pm, so there is likely to be a shorter wait if you order at other times.
Bookings
There is no need to make a booking unless there are five or more people or you wish to reserve a certain table in the pub. Please call us on 01273 325902 on the day or contact us here in advance.
Take-aways
We offer a hot and cold take-away service for all roasts and desserts. If you live nearby, you can even bring your own plate to have a hot roast dinner to eat at home!
Review us!
We would love to hear from you! You can post your Sunday Roast review on: Qype, Brighton Life or Facebook.
In the press and on the radio...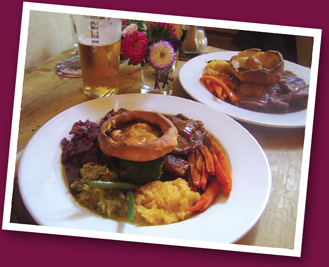 Andrea Fox, one half of Brighton Juice 107.2's breakfast duo, checks out a Sunday roast courtesy of The Farm Tavern, tucked away off Western Road...
After a sunny Sunday on the A beach watching The Streets, N*E*R*D and some kids called McFly, I needed a roast. The Farm Tavern's home-cooked food had been recommended so, with a hungry companion, I made my way to Farm Road, a right turn past Brunswick Square. Arriving at a bustling pub at 4pm you might expect the best grub to have been nabbed by early birds, but floor manager Jade assured me they've learnt to meet demand, cook throughout the day and keep the kitchen open until 10pm.
A Budvar was needed while we perused the mouth-watering menu, including 'Cracked black pepper-crusted Sussex Beef', 'Free range honey and pin-piri Chicken', 'Rosemary and garlic Sussex leg of Lamb' and 'Cashew and butternut squash'. Barman Jonny vouched for the chicken, but it was lamb and beef for us. Sorry veggies! Speaking of which, The Farm Tavern's kitchen takes its vegetables seriously. Once our food and wine had arrived, we kicked off with the obligatory veg count. Six, a pretty good number, and not just boiled to hell and back and piled on a plate. You'll find steamed broccoli, sautéed beans, honey roast carrots, creamy swede with nutmeg, cheddar leek gratin, red cabbage braised in red wine (a personal favourite) and the all-important garlic and rosemary potatoes. The well-cooked locally-sourced meats were wonderfully tender, tasty and gravy-covered. I was impressed at the quality and care taken over the food.
After that, thankfully, we had enough room to try pudding. The warm chocolate brownie (served on a hot plate) with ice cream was the most popular, and nice and gooey in the middle. Almond fans may prefer the chocolate tart with a hint of Amaretto, also served with ice cream. Splash out on £8.95 for the roast (and an extra £2 for pudding) and I doubt you'll be disappointed with the quality. It's not just a Sunday stop-off; according to posters dotted around there is plenty of entertainment in the week too. As well as a DJ on a Thursday, there's a comedy night every second and last Monday of the month. Enjoy Sunday roasts? Me too. If you haven't yet, I urge you to grab a newspaper and give it a try.
• Andrea Fox, XYZ Magazine, 1st September 2008.
One of our weekly posters