Reviews
Cozy pub out of the bustle of town a bit… love the open fires in the winter and friendy staff. Amazing big roasts on a Sunday… Try the Peri Peri chicken! Yum There's some great paintings in the bar too! The landlady has some great tunes too!
• studio27photography, 5 stars, Qype, 15th June 2009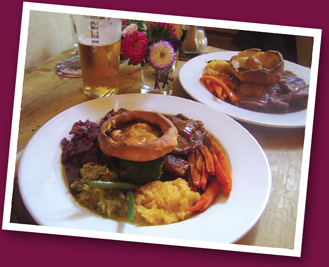 Andrea Fox, one half of Brighton Juice 107.2's breakfast duo, checks out a Sunday roast courtesy of The Farm Tavern, tucked away off Western Road…
After a sunny Sunday on the A beach watching The Streets, N*E*R*D and some kids called McFly, I needed a roast. The Farm Tavern's home-cooked food had been recommended so, with a hungry companion, I made my way to Farm Road, a right turn past Brunswick Square. Arriving at a bustling pub at 4pm you might expect the best grub to have been nabbed by early birds, but floor manager Jade assured me they've learnt to meet demand, cook throughout the day and keep the kitchen open until 10pm.
A Budvar was needed while we perused the mouth-watering menu, including 'Cracked black pepper-crusted Sussex Beef', 'Free range honey and pin-piri Chicken', 'Rosemary and garlic Sussex leg of Lamb' and 'Cashew and butternut squash'. Barman Jonny vouched for the chicken, but it was lamb and beef for us. Sorry veggies! Speaking of which, The Farm Tavern's kitchen takes its vegetables seriously. Once our food and wine had arrived, we kicked off with the obligatory veg count. Six, a pretty good number, and not just boiled to hell and back and piled on a plate. You'll find steamed broccoli, sautéed beans, honey roast carrots, creamy swede with nutmeg, cheddar leek gratin, red cabbage braised in red wine (a personal favourite) and the all-important garlic and rosemary potatoes. The well-cooked locally-sourced meats were wonderfully tender, tasty and gravy-covered. I was impressed at the quality and care taken over the food.
After that, thankfully, we had enough room to try pudding. The warm chocolate brownie (served on a hot plate) with ice cream was the most popular, and nice and gooey in the middle. Almond fans may prefer the chocolate tart with a hint of Amaretto, also served with ice cream. Splash out on £8.95 for the roast (and an extra £2 for pudding) and I doubt you'll be disappointed with the quality. It's not just a Sunday stop-off; according to posters dotted around there is plenty of entertainment in the week too. As well as a DJ on a Thursday, there's a comedy night every second and last Monday of the month. Enjoy Sunday roasts? Me too. If you haven't yet, I urge you to grab a newspaper and give it a try.
• Andrea Fox, XYZ Magazine, 1st September 2008.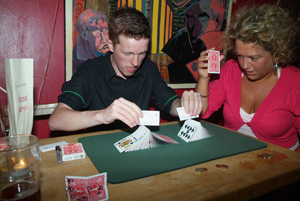 "Our philosophy is if the pub industry in general isn't doing well," says The Farm's co-owner Noah Hearle, "let us see what can be done to make that work in our favour. Rather than dwelling on a slump in the market, we're finding ways to make our pub stand out. It's never enough just to serve drinks. It's important that we don't sacrifice the quality of our food and ale, and we're wary of succumbing to the gastro trend. When my business partner, Martha Herbst, and I found this place, under a year ago, we found a real pub, and that is what we wanted to play on. In order to attract new custom, we'd rather complement what we already have – a beautiful old venue – than mess with the basics. And we've found lots of exciting ways to bring in trade: Mondays are comedy nights, where we showcase five or six acts a pop, from all over the country. On Tuesdays, we have fully qualified magicians, while a tarot reader works away on the pub floor. Other nights we have DJs and live musicians. There is no door charge – though donations are, of course, welcome! Together, Martha and I have a background in graphic design, club promotion and web development, so we use things like well-designed posters, a proper website and even a Facebook group to get our name out. There are more everyday ways to reach target customers; even small things, like offering a Sunday roast from midday through to closing time means we get customers that others miss out on."
• Charlotte Philby, The Independent, "Raising the bar: Why Britain's pubs are getting creative", 16th August 2008.
Bonjour tout les mondes! Thanks for a great night last night! The French menu is a definite winner. The cassoulet was yummy! And god, those home made profiteroles!!! Compliments to the chef and to the bar staff for putting up with the berets and drawn on curly moustaches. A bientot!
• James Locke-Hart, Facebook, 27th March 2008
I went to the F Tavern yesterday with my friends for lunch, for the 1st time.
It was the best food I had enjoyed in Brighton for a long time.
What nice people/service too.
Great place.
I'm coming back,....
• Gavin Ashenden, Facebook, 3rd March 2008
BEST food in Hove
Top work
• Kristian Towell, Facebook, 29th February 2008
The best pub food I've ever had, and it's child-friendly...Brilliant .
• Tancrede Bonnard, Facebook, 25th February 2008
We are regulars there and have see probably the best turn around of a pub! The new management have created such a lovely place....the new chefs are incredible, the food absolutely amazing, and the newly trained staff there are extremely attentive under the watchful eye of Martha, their boss. She takes pride in being very attentive to customers and makes sure staff do the same.
The drinks are reasonibly priced with excellently priced meals and amazing meals. They serve possibly the best roasts on sundays and until late....unheard of in Brighton and Hove. So as their regular, i dare you to try them....you would love it, i promise you.
• dibly03, Qype, 3rd February 2008.
I agree with Richard [see below], the food is incredible. The pub has such a lovely warm and cosy feeling. Its tidy, and cuddly. I'm also to have a party there soon as their chef prepare amazing buffets (had an xmas party there!). Well done for turning this place around guys! See you very very soon.
• Jennifer Rushdale, Brighton Life, 14th January 2008.
What a wonderful pub!!!!! Now that the new management are there it has taken the place by storm......the food has upped in ranks by a huge deal...the atmosphere is brilliant...excellent ales.....brilliant staff....the good compliments are endless. Seriously, check it out.
• Richard, Brighton Life, 27th December 2007.
Please post your own review at: Qype, Brighton Life or Facebook.