Our drinks
Draught beers, stout and cider
We have a very good selection of premium draught lagers.
Budvar ‡
Amstel
Becks Vier
Leffe

Kronenbourg 1664 ‡
Kronenbourg Blanc
Guinness ‡
Stowford Press ‡
All our draught beers, stout and cider are super chilled. Draught lagers marked with ‡ are also served in the function room.
Ales
We have four expertly settled and tapped ales available – meeting the expectations of the most discerning ale drinker. New guest ales appear weekly, so check here for updates!
Old Speckled Hen
Abbot
Dark Star Hophead (guest ale) Added on 12th May 2009
Doom Bar (guest ale) Added on 12th May 2009
Real Ale Festival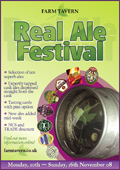 From Monday, 10th November until Sunday, 16th November 2008, 10 expertly tapped real ales available from Sussex and beyond! We will be having more real ales festivals in the future.
Abbot
Abbot Reserve
Betty Stoggs
Dark Star Hophead
Fireside
Old Speckled Hen
Prospect
Tribute
White Horse Dragon Hill
Winter Warrant
Spirits
Our house spirits include:
Smirnoff Red vodka
Gordon's gin
Bells whisky
Captain Morgan's rum
We specialise in many flavoured Absolut vodkas (including our own) and have a fine selection of premium malt whiskies. We also have Tuaca available – chilled to -13°C.
Soft drinks
In addition to Appletiser, we now stock Peartiser and several Fruitisers. We also have several varieties of pressed cloudy apple juice
Promotions
We have promotions with selected spirits for just £1.20 or £1.50! Between 6pm and 9pm every night go tall for just £1 on all house spirits; discounted doubles at other times.
Please view our Facebook group for information on upcoming events and promotions.